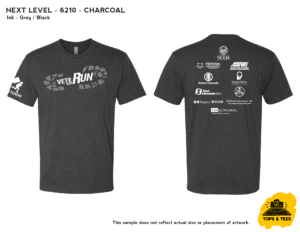 In order to reduce leftover shirts and make a little additional funding for Mighty Oaks and Columbia Care, we have a few shirts leftover that you may want to have as an extra or perhaps for a family member or friend.  The attachment shows what the shirts look like.  I have shirts left over from this year which are a grey color, a few from 2019 which are a green color, and some from 2018 which are a sand color.  The cost to us for all of these shirts ran from $10-$14 and the front design will be the same while the back will have the donors from that particular year.  For a minimum donation of $5 per shirt on a first come first served basis, a shirt can be yours.
The remaining inventory is a follows:
2018 shirts which are a sand color we have 5 Large and 13 X-Large.
2019 shirts which are kind of an olive-green color we have 3 Medium, 2 Large, & 3 X-Large.
2021 shirts which are Grey color, we have 1 large & 14 X-Large.
If you would like to help veterans and our charities this year, please respond to this email and let me know the year and size & I will coordinate delivery on a first-come, first-served basis.  Mighty Oaks is a charity that addresses Veteran Suicide & PTSD and Columbia Care helps local veterans who are unable to get help from other social service agencies for a variety of reasons.