Events
========================================================================================
Christmas social
China Hut
Saturday, December 1st at 3:00
========================================================================================
July 4th the chapter will have a booth at the Central Point 4th of July celebration and also sell flags along the parade route which is our chapter's main fund raiser. We could use some help along the parade route selling flags. That evening, we will also have a booth at "Red, White & Boom" which will take place at the Jackson County Expo. We will be gathering donations for the Chapter and handing out information about NCOA and some of our charities that we support.
Additionally, August 4th will be our annual Chapter BBQ at Veterans Park in Medford from 1245 until 1500. It will be pot luck for salads and desert with the chapter providing the BBQ ribs and chicken. Bring a chair and an appetite!
========================================================================================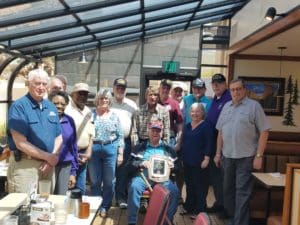 Friends:
We held a social on May 5th at the Iron Skillet in Phoenix. We had a presentation from Clear Caption about a free phone available for all hearing impaired citizens free of charge. Chairman Haines briefed about a desire to start a chapter scholarship and several members volunteered to help draft the criteria. He also presented the chapter with the Large Chapter of the Year for 2017 presented in Washington DC and a group picture was taken.
Strength in Unity & Leadership By Example
Terry M. Haines
Chairman, NCOA Rogue Chapter #1260
541-601-8467
========================================================================================