November brings us Veteran's Day which started as a day to commemorate the end of WW1 and over time transitioned to a day when the service of all veterans is acknowledged. Like many things, this year it will be different. COVID-19 imposed restrictions on public gatherings may have cancelled or modified many of the traditional activities NCOA is involved in or support such as parades and wreath laying ceremonies, but November 11th is, and will always be, a special day to acknowledge all who have served.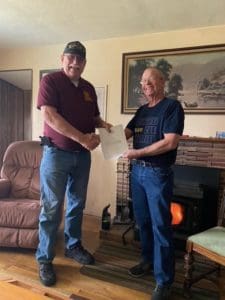 The Non Commissioned Officers Association (NCOA) is composed of and represents the full spectrum of enlisted members of all services and their families; this force comprises the vast majority of our armed forces and shoulders most of the workload of our military. On November 11th, I am asking all NCOA members to find a way to honor each other and our flag that we proudly served under.  How about each one of you locate another veteran and together with our flag honor each other publically.  Gather in small or large groups around a flag as is feasible in your locale and honor each other with a salute.  Submit a picture of that effort to HQ and let's see if we can receive at least one picture of veterans honoring each other from all 50 states on Veterans Day.  This is a simple request and won't take a lot of time, but it will make a powerful statement to our nation during these trying times.  NCO's and Petty Officers make up the backbone of our military and this year, let us stand up for each other, our flag and our country.
Finally, I apologize profusely for forgetting to acknowledge the 245th birthday of our United State Navy which was celebrated on October 13th.  A belated birthday wish is given for all of our sailors out there. With that said November 10th is the 245th birthday of the United States Marine Corps and now that the shock of  the recent wildfires around me has settled, I want to get back on track and say "Semper Fi" and happy birthday to all of our Marines.If you have any ideas or suggestions, either contact headquarters or contact me at chairman@ncoausa.org and I can assure you that your leadership will take note.
Strength in Unity & Leadership By Example,
MCPO (SCW) Terry M. Haines
Chairman, International Board of Directors