My fellow members, May is a special month for me and for many of you as well. For me, my father who passed away almost 17 years ago was born in May. He served in the United States Navy retiring as a Chief Postal Clerk from the United States Navy. I just passed the anniversary of his birth a few days ago and stopped to reflect on how he was a great influence on my decision to join the Navy many years ago. Memories of significant events in each of our lives help shape us into who we are, and I am proud of the fact that I joined and served for 30 years in the Navy that I loved. Many of you have memories for your respective service and I will admit that for some of you they may not be as comforting as mine, but that service played a role for each of you in developing who you are today.
May is also a month that our country celebrates Memorial Day each year so that we can remember those who served and did not come back. It is a solemn month and a solemn day that that raises memories of those that we may know that did not come back. Perhaps it was a family member or a dear friend or just someone that you served with. In each case, it brings up the reality that one day, each one of us wrote a blank check to the United States of America to serve in a job from which we might not return. There are lots of professions out there that are dangerous, but service in our military holds a special place among them.
May is also Military Spouse month and one cannot understate the significant role that our spouses play in holding up the home front while we deploy. Taking care of our families while we serve, keeping the house together, raising the kids and being an emotional support mechanism for us are huge responsibilities that may not be as dangerous as what we do, but are equally important in the grand scheme of things. Remember those deployments where you have a tearful goodbye knowing that when you get on that bus, you might not come back. Remembering the longing looks in the eyes of our spouses as they say goodbye knowing that this could be the last time they see you if your deployment was into a combat zone.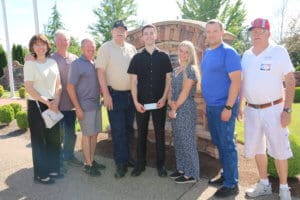 The Non Commissioned Officers Association (NCOA) is not just another club that takes your money and gives you nothing in return. NCOA played a significant role in my military career and help me advance to the rank of Master Chief in the Navy. Maybe there is a similar story in your life that can bring a smile to your face as you reflect back and maybe not. In either case, I ask each of you right now to consider this request. With May being Military Spouse Month, if your spouse is not already in the NCOA family, please bring them in. If your kids are not yet members of the auxiliary, please sign them up. NCOA represents our entire enlisted force and their families and now you have an opportunity to show your family and your NCOA just how important that is to you. Your country needs you and NCOA needs you to step up. May God Bless each of you and may He Bless our beloved NCOA!
If you have any ideas or suggestions, either contact headquarters or contact me at chairman@ncoausa.org and I can assure you that your leadership will take note.
Strength in Unity & Leadership By Example,
MCPO (SCW) Terry M. Haines
Chairman, International Board of Directors