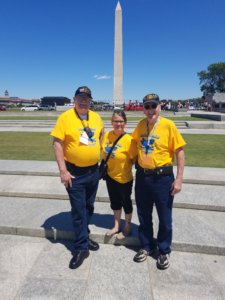 As we approach the 75th anniversary of D-Day, another milestone in modern military history will be remembered. Thousands and thousands of terrified young men stormed numerous beaches in France in what ultimately proved to be a turning point in the war in Europe. It was the beginning of the end of the Nazi threat that had swallowed Europe, encompassed a plot to destroy an entire race of people and changed the course of history as we know it.
Some of you may have faced your own D-Day type of experience in Korea, Vietnam, Somalia or the Middle East. While they may not have been on the same scale as D-Day 75 years ago, they still played a significant role in impacting your life going forward. Some of you served during peace time and were not faced with the horror of battle and that is ok. The point is that you served. Last month we remembered those who did not survive and this month I want to remember you, the survivors! You served, you sacrificed and you survived. Thank you for your service.
Many of you joined the Non Commissioned Officers Association (NCOA) because it seemed like a good thing to do at the time. For others, someone pestered you or twisted your arm until it was just easier to join rather than put up with being harangued. Some of you joined because you believed in what we do and it made sense to you. Some of you joined long enough to take advantage of a discount in your education. Let me ask you a question. Have you gotten anything out of your membership in NCOA? If you have, I would bet it was because you put some skin in the game. The generations that stormed the beaches of Normandy, Guadalcanal, Okinawa, the Cho son Reservoir in Korea, and numerous battles in Vietnam put some skin in the game. They made a choice, nothing ventured, and nothing gained. Perhaps if you haven't gotten any value out of your membership is because you haven't put any skin in the game yet.
Something that you can do even if you are not near a chapter that will reward you in spades is help with projects like Honor Flight that takes our older vets back to Washington DC to visit their Memorials and along the way experience what a grateful nation feels like. Experience watching an elderly veteran transition to a proud man or woman who stands or sits a little taller because of this project. I have heard of veterans who experienced closure to a lifetime of wondering after an Honor Flight. I firmly believe that if any veteran or retiree experiences the results of this type of program, it will deeply affect how they perceive their fellow veterans but also a nation that they live in.
My job as a leader within NCOA is to lead, motivate, educate our membership in order to make us into an organization that we are proud of, but also an organization that we want our friends and neighbors to belong to. NCOA is not just an organization stuck in neutral; we strive to be forward leaning and to make a difference within our communities and our nation. We are not the largest but one day we could be. It is a challenge to not stay stuck in the past and so fixated on tradition that we lose sight of how to survive in an ever changing world. Your leadership is committed to look forward, but to never forget and learn from our history and tradition.
If you have any ideas or suggestions, either contact headquarters or contact me at chairman@ncoausa.org and I can assure you that your leadership will take note.
Strength in Unity & Leadership By Example,
MCPO (SCW) Terry M. Haines
Chairman, International Board of Directors