July brings upon us the celebration of our Nation's birth. Many of us will be involved in patriotic parades either as participants or attendee. There will be a massive amount of attention to fireworks, parades and patriotic music.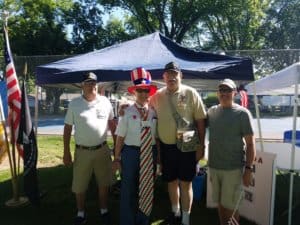 As men and women who served our country to support and defend the constitution, July 4th has a special place in our hearts. Most if not all of those who signed the constitution gave up everything throughout the remainder of their lives as a result of signing that sacred document. We should spend some time and reflect on the true cost of the freedom we all take for granted. We should share with our children and grandchildren what that cost really means. Service in the military is not easy and it surely isn't convenient.
To see so many in this country right now trying to tear down our constitution is disturbing. Perhaps we are suffering through this disassembly of our constitution because we have gotten soft or just assumed that our schools would teach the truth about the formation of our country. My friends and fellow patriots, it is time for us to stand for the very thing that we were willing to potentially give our lives for. However, since we survived, we may feel that we have given enough. My question to each of you right now is do you acknowledge that while not perfect, this country is the best option in the world?
This 4th of July, were you proud of your service and what this country was formed around? Do you feel that you have grown complacent about the reason the 4th of July is so important? To those who have never served in the military, the 4th of July has evolved into a day off work with fireworks and parades. The birthdate of our country used to represent thoughts about the sacrifice of our founding fathers. Far too little is taught in our schools about the ideas of what freedom truly represents. The core thoughts represented by the Declaration of Independence and our Constitution have faded with time. I fear that the 4th of July for many has become just another day off of work and a reason to blow up fireworks.
I and a bunch of honored veterans just returned from an Honor Flight where our first visit was to the National Archives where we visited and got to see the actual Declaration of Independence and the Constitution. The next day we visited Arlington National Cemetery to see the Changing of the Guard at the Tomb of the Unknown Soldier. Driving through hundreds of acres of graves of lost Soldiers, Sailors, Marines, Air Force, Coast Guard as well as historical leaders of our country, places an appropriate reference on the cost of freedom that came about as a result of the efforts of our founding fathers.
When is the last time that you read the Declaration of Independence and/or the Constitution? As veterans who have served and sacrificed to defend this nation, I pray that you place more importance on the 4th of July than just another holiday with fireworks. It represents the core values that every noncommissioned officer or petty officer swore to uphold when they/you put on that uniform. Teach that to your children and maybe we can begin to turn things around in this country!
If you have any ideas or suggestions, either contact headquarters or contact me at chairman@ncoausa.org and I can assure you that your leadership will take note.
Strength in Unity & Leadership By Example,
MCPO (SCW) Terry M. Haines
Chairman, International Board of Directors