This year started with a ton of hope on my part and that all changed on January 9th when my wife passed away.  It has been an extremely difficult past couple of weeks, but two things have sustained me.  My Lord and savior along with my family and the literally hundreds of well wishes and condolences from my NCOA family.  Thank you!
I began this year with great optimism.  Mike Little has become our new Chief Advocacy Officer and he has hit the ground running.  In his first week, he hired 20 college interns to assist with legislative functions, upgrading our national website, and applying for grants for the association.  On top of that, he has shared his experience in the technical realm and saved the association literally thousands of dollars.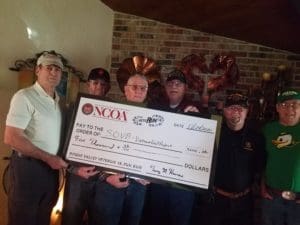 I have been struggling with what I could or should say in this issue that would give each of you some positive perspective.  I may not know many of you by name or face, but I know your heart based on my recent loss.  I am confident that with the members that currently exist, there are a lot of leaders and definitely a lot of caring people out there.
With a change in government, it brings up a lot of uncertainty.  What I do know is that the real backbone of our military is the Non Commissioned and Petty Officer Corps; the 80% that executes the mission.  I am blessed to be a part of that group.  There is a saying, "when the going gets tough, the tough get going."  That is you and I.  We have the option to receive the COVID-19 vaccine which should help get life back to normal. There are some who are concerned about the vaccine and that's OK.  We just need to get back to some semblance of normal life and whatever we need to do to accomplish that mission; we will find a way to get it done.
NCOA is in good hands and with so many good members out there, we cannot fail.  I hope to see all of you in San Antonio in July.  I also urge you to get one of those new challenge coins from HQ.  They are even more impressive in reality than the pictures can share.  Who knows, someone may ask to see your coin the next time we meet.
If you have any ideas or suggestions, either contact headquarters or contact me at retiredveteran89@outlook.com and I can assure you that your leadership will take note.
Strength in Unity & Leadership By Example,
MCPO (SCW) Terry M. Haines
Chairman, International Board of Directors